Upholstery Cleaning in Miami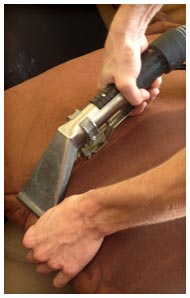 Our upholstery cleaning services in Miami are available now. We'll take care of every detail, making sure everything lines up just right for an easy move forward with no surprises! Want to relax in your recliner but realize that there are Cheetos stains on one side and who the heck knows what on the other? No one should tolerate dirty, greasy upholstery furniture that could lead to all sorts of health problems.
UCM Carpet Cleaning Miami has a solution for any upholstery cleaning you might require, be it office chairs, sofas, loveseats, ottomans, leather furniture , stains of all kinds, and more.
In addition, we offer carpet and rug cleaning of any complexity. Have you noticed a buildup of dirt and grime in your house? If so, don't worry! We can take care that away for good.
How We Clean Your Upholstery
The cleaning process starts with a thorough examination of your upholstery and identifying the most suitable treatment for your particular fabric type. If you are in need of stain removal, then a spot remover will be sprayed, and a powerful steam cleaner will remove any dirt from the base of your furniture and cushions while loosening up the stain elements from your upholstery fibers. The drying process is natural and only takes an hour or so.
At the end of the process our technician will guide you on how to keep your upholstery clean and answer any questions you might have.
Leather Cleaning Specialists
UCM Carpet Cleaning Miami also specializes in leather upholstery cleaning. As you know, leather requires extra special care. Misuse of cleaning agents will likely end in either over or under moisturization, which can leave your leather couch or armchair unusable and undervalued. Our products are time proven, specialized, and best of all, eco, human, and pet friendly!
Mattress Cleaning Services
Have you recently discovered bed bugs in or around your bed? While they are essentially harmless, they are a nuisance and cause some people to experience allergic reactions.
Why spend hundreds of dollars on a new mattress when you can order a professional to clean your mattress for just a fraction of the cost. UCM Carpet Cleaning Miami techs will clean your mattress of any odor and stains that might have accumulated from normal use, while at the same time ridding your mattress of any critters that might be sharing your bed.
Call Now
Get a good night's sleep with an upholstery clean by UCM Carpet Cleaning Miami. Call for a free price estimate today! 954-399-7555.