Mold Testing Services in Miami, FL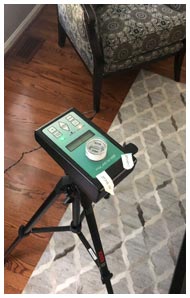 You can have mold growing in your property that can go unnoticed. That doesn't mean that it won't do any harm to you.
Dealing with this fungus can be a horrible thing to do. No resident or business owner would want to have that at their place. However, turning a blind eye to the problem will not do any good. On the contrary, it shall only worsen the situation. While getting your place inspected for mold regularly is the best practice, you must definitely call the experts in if:
You detect musty odors near damp areas at your place.
You can see black or greenish spots near the wet places.
You find dark or unexplained spots on the wall.
Getting mold detection service can let you know about the existence of mold before everything gets out of hand. You may then choose to deal with the situation at your convenience and prevent great damage.
A Sneak Peek into Our Mold Testing Process
UCM Carpet Cleaning Miami is your local mold detection expert. We have a systematic approach to each case that helps us get the right results every time. This is how professional mold testing is performed by our team:
Taking Samples
We come to your place and take the samples using our top quality mold detection devices. Our experts have the right equipment and tools to do the job so that the contamination doesn't spread out and affect other areas.
Send the Samples to the Lab
Once the samples are collected, we send them to an independent lab to see what kind of a mold problem you have.
Getting the Results
The samples are analyzed at the lab. We then tell you what mold problem you have. Based on the reports, you can call in the right experts for mold remediation services.
Here's What We Offer in Miami
Mold detection can be a tricky job. If you leave it to a dabbler, then your situation can easily go worse. It'll then cost you more money and time, and you'll be seriously risking your health.
Be it black mold testing or any other mold related sampling; we are here for you. We use humidity meters, infrared imaging and other advanced technologies to get the job done right. We also have the best availability in the area through working with the local mold testing team at O2 Mold Testing. They are licensed and certified to provide you with targeted and reliable mold testing results.
To help you with mold detection in the best possible way, here's what we offer:
samples from air and surface
visual mold inspection
checkup on sources of moisture (water leaks, moisture, damp areas, etc.)
black mold detection
If you need any of the above-mentioned services or home mold testing in Miami, feel free to contact us right away - 954-399-7555!
How Much Will Mold Testing Cost Me?
When deciding whom to call for mold inspection, the price can play an important role. Before you hastily call up a service with the cheapest price, know that the pricing for the services depends upon a lot of factors. Here are some:
What's the amount of mold sample that needs to be collected.
What sort of tests need to be run to detect mold. Not all mold appears right away, and you need special tools and methods at times to find it out.
If the remediation protocol is needed.
Other similar points like these decide the cost. Therefore, there's no one fixed pricing, and the quotes vary for each situation. Contact us and get your situation assessed and get the right mold testing cost for our services. We offer reasonable rates for our services in the Miami area.
Read more: Facts about Mold Testing and Identification.
Affordable, Fast, and Effective Mold Testing Near You in Miami
Suspecting mold and dealing with it isn't the best thing in the world. But getting the professionals to help you can sure make things easy.
If you are looking for the right service, then simply call us up. No more need for you to go online and search professional mold testing service near me and then spending hours there. With us, you can get the job done efficiently and at affordable rates.