Mold Remediation Services Miami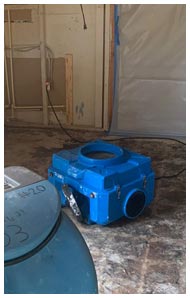 Mold growth occurs when there is water damage or condensation on a surface. It usually takes between 48 hours and 7 days for mold spores to colonize and grow, but it can happen in as little as 24 hours if conditions are ideal. The mold growth can be very slow and hard to see for a few days, so it is important to look out for mold signs, including a musty, earthy, or fungal odor.
Other signs of mold growth include:
A darkened stain
A fuzzy appearance on the surface
Small black spots appearing on painted walls and linens
The effects of prolonged exposure to mold can have serious health consequences not just for you but your family as well. Ingestion from mold spores is common and can cause nausea, runny nose, coughing, sore throat and even headaches.
Every time you clean moldy surfaces, if you are not protecting yourself correctly then you are breathing them in or swallowing them. Mold exposure can also lead to weakened immunity, asthma attacks, reduced lung capacity, chronic fatigue syndrome, and allergic reactions.
If your home has suffered water damage from a flood or burst pipe, it is important to call a mold remediation service in Miami, FL at 954-399-7555 as soon as possible. If you have already been exposed to or feel irritation from the mold, it is advised that you call a doctor immediately.
When and Why to Call Mold Remediation Specialists
If you suspect mold growth in your home but are unsure of where it might be, it is best to consult mold remediation services, Miami, FL. A good mold remediation company will inspect your home for evidence of mold growth and provide you with peace of mind about the safety of your family.
To quickly find mold remediation service, you could search mold remediation near me or other key search phrases like mold testing near me. However, you have already found UCM Carpet Cleaning Miami, local and experienced mold remediation specialists. Our mold remediation experts are specially trained in detecting, isolating, and eliminating mold infestations.
Our mold remediation services include:
Removal of affected materials.
Disinfecting and cleaning any remaining surfaces.
Preventing future mold growth with encapsulation techniques.
Mold treatment which may include air purification to clear the air of spores and residue.
At UCM Carpet Cleaning Miami, we use a wide range of products designed for different types of molds and contamination levels. Our procedures follow the mold remediation protocol and meet the guidelines set for safe mold treatment.
Is Mold Remediation Necessary to Solve Mold Problems?
In most cases, mold can be successfully removed without causing significant damage. If you attempt to remove the mold yourself, there is a chance that it will cause more problems than it solves.
Also, if you do not properly eliminate the mold infestation, it can grow back quickly and cause even more of a health hazard for your family. Our professional mold remediation service is capable of eliminating mold growth and ensuring that it never returns. Professional mold removal can help you get rid of mold in the home, especially after incidences such as:
Water damage/leak incident
Burst pipe incident
Flooding caused by heavy rains/storm
Leaking roof
Basement flooding
Why Hire Us for Your Mold Remediation/Mold Removal Needs?
We provide quality services at affordable prices. With UCM Carpet Cleaning Miami, you can expect to pay only for the services you need without any hidden costs or excess fees. We offer services that are guaranteed to meet your satisfaction and solve your mold problems.
Our professionals have been properly trained in all aspects of mold detection, removal and remediation and will carefully inspect your home to find the source of mold growth. We are licensed, insured, and we use state-of-the-art equipment and techniques for all our services so you can have complete peace of mind that everything is being done properly. We will provide you with all the information you need to make an educated decision about your mold removal needs, including how much mold growth exists, where it is located, and what steps will be taken during the remediation.
We know that when it rains in Miami, it pours! It seems like after every storm, we have many customers looking for mold remediation services. To improve our response time and availability for all of our valued customers, we have joined in partnership with FDP Mold Remediation, a local company specializing in effective mold removal and prevention. This means that we can help even more of our neighbors with mold remediation than ever before.
Get Rid of Mold Today!
Our mold remediation service aims for excellence and provides you with the highest quality of service. For more information about mold remediation, visit us at UCM Carpet Cleaning Miami or call us today for a free phone consultation/estimate at 954-399-7555. We are available every day of the week, to handle your emergency service needs.